An update from the Rupert for Governor campaign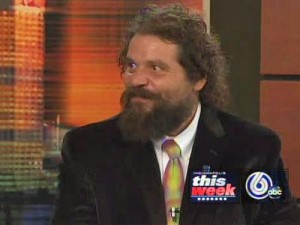 I'd just like to update you on the progress the Rupert for Governor Campaign.   Below is a photo of the completed wrap of Rupert's campaign van with which he will continue to travel to all 92 Indiana counties brining the LP's message of a smaller and  more tolerant government to Hoosiers.
The campaign is completing a very successful run at the Indiana State Fair.  Over the past 3 weeks dozens of volunteers from both the LPIN and Rupert's campaign have staffed a 20′ x 20′ booth and have registered voters, given the WSPQ and distributed thousand of pieces of Rupert for Governor, Johnson for President and LP literature to enthusiastic voters from around the state.  Many of the hundreds of booth visitors came to meet Rupert and stayed to discuss politics, leaving the booth vowing to vote Libertarian (many for the first time).
Our Lt. Gov. candidate, Brad Klopfenstein, participated in the only debate for that office during the fair before an audience of about 300 voters and media.  Brad did a very commendable job discussing the duties of the Lt. Gov. as the Secretary of Agriculture in front of a audience consisting primarily of farmers and agribusiness companies dependent upon big government for survival.
As announced last month, Rupert will participate in three debates this fall with the dates/locations being finalized now.  Those debate will be televised statewide and streamed on the internet if anyone is interested in watching.
Donations to the campaign continue to flow in although not near the level of Rupert's two old party opponents.  Please feel free to visit his web site at http://rupertforgovernor.com/ and contribute generously.  There are no individual contribution limits in Indiana so indulge until  it hurts!  ($1000 limit for corporations).
Have a great late summer and best wishes to LP campaigns around the country.
In Liberty,
Sam Goldstein, Chair
Libertarian Party of Indiana