Arkansas Libertarians field first-ever statewide slate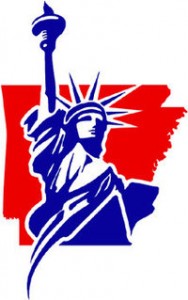 In yet another sign the Libertarian Party is growing, the Arkansas LP fielded its first-ever slate of candidates for state offices.
Among those candidates is former state representative Bobby Tullis, a Mineral Springs Democrat, now the Libertarian nominee for United States Congress in the Fourth District.
"New parties in Arkansas must submit 10,000 valid signatures of registered voters to the secretary of state's office to gain ballot access. Last year, the Libertarian Party was certified as a new political party by Secretary of State Mark Martin after submitting more than 16,000 signatures of registered voters," Arkansas News reports.
"Arkansas is the last state in the nation never to have placed a Libertarian Party candidate for an office other than president on the ballot, according to Rodger Paxton of Marion, the state party chairman."
"Now Arkansans will have … at least two libertarians on the ballot, and at least one (party congressional candidate) to vote for. It's fantastic," said Paxton, the libertarian nominee for the District 51 House seat.
Besides Tullis and Paxton, other Libertarian Party candidates nominated for offices in the state are:
–1st District House: Jessica Paxton, Marion
–2nd District House: Chris Hayes, Little Rock
–3rd District House: David Pangrac, Van Buren
–State Senate District 13: Frank Gilbert, Tull
–State Senate District 25: David Dinwiddie, Pine Bluff
–State Senate District 31: Glen Schwarz, Little Rock
–Saline County Judge: Gordon Hall, Bryant
–Constable, Sebastian County Upper Township: Steve Jones, Fort Smith
–Crawford County Justice of the Peace: Crystal Pangrac, Van Buren
–Constable, Henderson Township: William "Bill" House, Bonnerdale