Elected Libertarians: Dan Halloran, New York City Councilman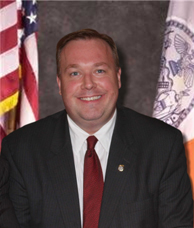 Council Member Dan Halloran was elected to the New York City Council in 2009 to represent the Queens neighborhoods of College Point, Auburndale-Flushing, Bayside, Whitestone, Bay Terrace, Douglaston, and Little Neck.
Halloran credits his Libertarian Party nomination, attended the 2010 Libertarian National Convention and speaks to Libertarian Party groups.
Council Member Halloran is a lifelong resident of Northeast Queens. He was born and raised in Auburndale and attended St. Andrew Avellino Elementary School, Regis High School, Fordham University, St. John's Law School and SUNY Buffalo for post-doctoral studies.
Council Member Halloran's family has served New York City for five generations. His great-grandfather was an NYPD police chief, his grandfather was an NYPD detective, and his two brothers are FDNY firefighters. His father served as a Deputy Director in the Office of Management and Budget.
Council Member Halloran served as a member of the NYPD and worked in three district attorney offices, helping keep our communities safe. Council Member Halloran then entered private practice with the Queens-based law firm Palmeiri & Castiglione, LLP where he fought for patients' rights and represented New York City police officers as an of counsel attorney for the PBA.
A homeowner and former small business owner, Council Member Halloran is dedicated to cutting taxes for New York City's working families and easing the burden on small businesses. He campaigned against overdevelopment and is committed to preserving the unique residential character of northeast Queens. Council Member Halloran is a leading voice for government transparency and reform, maintaining our quality of life, and delivering services for seniors, being one of the first to agree to disclose his discretionary spending.
The Queens Examiner called Council Member Halloran an "independent thinker" who will "tackle issues on a case-by-case basis free of partisan politics" and "become a highly respected member of the City Council, one who can deliver funds and services to the district by working to build positive relationships with his fellow City Council members." Halloran was praised by The Queens Gazette for his community roots and his  "community-oriented" view of government.
Council Member Halloran is a proud Eagle Scout, and remains active in scouting.  He is an avid hunter and camper who raises his Great Dane dogs as part of a family tradition.