Students 'just say no' to White House-controlled school lunches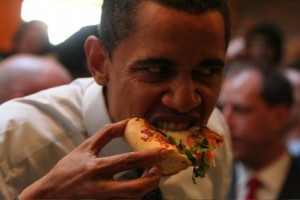 Students across the nation are speaking out against school lunch mandates handed down by the Obama White House that leave them with less food to eat at a higher price.
"In Wisconsin, high school athletes are complaining about not getting enough to eat each day, due to the skimpy new school lunch menu mandated by the United States Department of Agriculture and First Lady Michelle Obama," TownHall. reports.
"I know a lot of my friends who are just drinking a jug of milk for their lunch. And they are not getting a proper meal," middle school student Samantha Gortmaker told Keloland.com.
The new Obama-mandated lunches costs 20 to 25 cents more, and students get less food.
"Nancy Carvalho, director of food services for New Bedford Public Schools, was quoted as saying that hummus and black bean salads have been tough sells in elementary cafeterias. That means even smaller children are going through the day fighting hunger pains, which can never be considered a good thing."
Isn't it time to get the president's fingers out of your kid's lunch?