Supreme Court upholds free speech in elections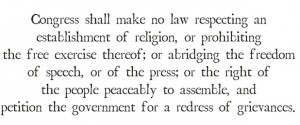 In a major victory for citizens who have normally been sidelined in political debates, the U.S. Supreme Court Monday struck down a Montana law prohibiting corporate spending in state political races, striking down anti-speech laws in other states as well.  The case in American Tradition Partnership v. Bullock.
ATP-Montana State Coordinator Doug Lair stated, "This decision allows mom-and-pop companies and grassroots groups of all political flavors – those who cannot afford lawyers and lobbyists to comply with unconstitutional restrictions – to freely organize and voice their opinions without fear of government retribution."
What this means for Libertarians is now small businesses can spend money from their general funds on behalf of Libertarian candidates without having to hire an attorney to form a PAC and regularly report.  Disclosure laws still apply.