Turning stolen yard signs in your favor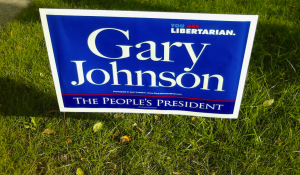 It happens in every election.  Your yard signs will be stolen.
But don't whine about it.  Go on the offensive.
Campaigns and Elections magazine offers these helpful tips:
Earning media from yard sign thieves

A Google News search for "yard signs" returns 39,000 news results in just the last month. Long story short, the media loves to report on yard signs—including sign theft and vandalism. When a supporter recounts their story of a stolen sign, ask if you can include information about the theft in a press release. Once the campaign has accumulated a few similar stories, issue a press release decrying the actions of your opponent's supporters, and offer quotes from your supporters about the purported thefts. With any luck, you'll get a sympathetic news story.

Sign theft and volunteerism

Angry supporters are ripe for a volunteer ask, and yard sign theft is a powerful source for supporter anger. When a supporter calls the field office to share their story and ask for another yard sign, you're likely to get a "yes" from a volunteer ask because they're motivated by anger and want to reciprocate. In addition, many campaigns successfully trade a sign for a volunteer shift, which also works well.

Turning sign theft into dollars

Using the same process as above, small dollar contributions in exchange for a yard sign are common, and upset supporters will be quick to open up their wallets for a few dollars to replace their sign for virtuous reasons and spite alike.

Ben Donahower is a contributing editor to the free guide, Get Out The Vote To Win, and a campaign veteran. You can connect with Ben on Twitter at @iapprovethismsg.