Bruins goalie skips White House event, blasts GOP, Dems for violating freedom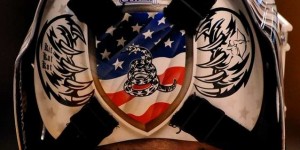 Stanley Cup-winning goalkeeper Tim Thomas caused a stir Monday evening when he refused to join his Boston Bruins teammates at a White House event honoring the champions.
In a statement on his Facebook page Thomas blasted both the Republican and Democrat parties for violating individual liberty, writing:
"I believe the Federal government has grown out of control, threatening the Rights, Liberties, and Property of the People.   

"This is being done at the Executive, Legislative, and Judicial level. This is in direct opposition to the Constitution and the Founding Fathers vision for the Federal government.

"Because I believe this, today I exercised my right as a Free Citizen, and did not visit the White House. This was not about politics or party, as in my opinion both parties are responsible for the situation we are in as a country. This was about a choice I had to make as an INDIVIDUAL. 

"This is the only public statement I will be making on this topic. TT"
Thomas, who wears a goalkeeper's mask emblazoned with "Don't Tread On Me" is a native of Michigan and represents the United States in the Olympics.
Predictably, the mainstream media are attacking Thomas for speaking out in defense of his fellow citizens.  You can let him know you support him on his Facebook page.