Elected Libertarians: Karen Richardson, Johns Creek City Council, Georgia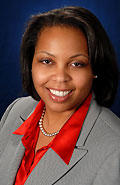 Council member Karen Richardson brings ten years of community involvement experience in Johns Creek to her work on the Council.
As a wife and mother, Richardson originally got involved in the Johns Creek community as a member of the Windermere Park Homeowners Association. She went on to serve as Chair of the Zoning Committee of the Johns Creek Community Association (JCCA), the ground-breaking Homeowner Association (HOA) umbrella group of then unincorporated northeast Fulton County.
Her love of community service led to her selection as Chair of the Zoning Sub-committee of the Committee for Johns Creek, which spearheaded the grass roots incorporation movement.
As Chairwoman, she extended her role as a zoning advocate for the community, while helping to lay the groundwork for the City's future Community Development department following incorporation.
Richardson describes her highest priority as informing and empowering her constituents. Her dedication to engaging the communities she represents has prompted her to schedule "Coffee with Karen" meet and greets and to maintain weekly office hours.
Realizing the importance of parental involvement in all children's education, Richardson serves as the Treasurer of the Abbotts Hill Elementary School PTA.
A native of Scarsdale, New York, Richardson and her husband, Eric, relocated to the Ocee community of Johns Creek nine years ago. They have three children, Andrew, Samantha and Miles, who attend the public schools of Johns Creek.
Richardson holds a BA in History from the University of Rochester and an MS in Instructional Design, Development and Evaluation from Syracuse University. She was formerly an educational consultant with the Eastman Kodak Company in Rochester, New York.
Would you like to be one of the hundreds of elected Libertarians?  Click here to sign up now!
Click here to chip in $10 to re-elect Libertarians and elect even more!
Tweet or share this information by clicking below.